Today, I want to share with you the true wireless Bluetooth headset Pamu Slide, which was previously recommended by Indiegogo in the United States for more than 10 million fundraising and many big-name NBA stars. The Pamu Slide has the same sound quality as others! In addition, it also has a wireless charging function, which is convenient for everyone to take out, and you are not afraid of running out of battery when listening to music!
Specifications:
This Pamu Slide uses the QualcommQCC3020 chip. The 15 generation of Bluetooth is generally available for 10 hours, with a charging case for up to 60 hours. The waterproof function is IPX6, and the IPX6 level waterproof definition is 12.5 meters from 3 meters away. The nozzle with mm opening emits a flow rate equivalent to 100 liters per minute and a flow pressure of 100kN / m2, providing all-round angle waterproof protection for 3 minutes! The horizontal distance of the connection can reach more than 10 meters. Basically, if you move in the same area, you can maintain an excellent connection!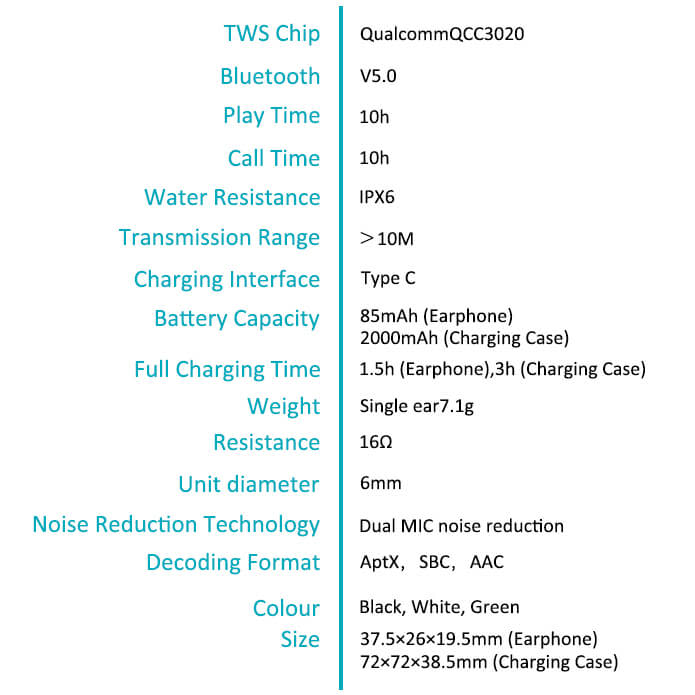 In addition to headphones, the box of the headphones has also become a wireless charging box, which can provide 2000 mAh of power, which is very convenient and practical. Pressing the back button is a wireless charger!
In use, Pamu Slide's ears are equipped with a touch interface to control, which can improve the trouble and inconvenience of constantly turning on the phone, but the new problem is that you may accidentally touch and pause music or Activate other functions, please refer to the table below.
Wearing
In the material of the headset, Pamu Slide uses a mixture of aluminum and ABS resin, which is slightly heavier than other Bluetooth headsets. The single headset is 7.1 g and the AirPods is 4 g. However, when the moderator wears it for running, it is not special. I feel the weight and shaking of the headphones. Although there are still some noises caused by vibration, it is very comfortable overall.
In addition, Pamu Slide's earbuds are very soundproof. The 6 earbuds can fit a variety of ear types. Basically, when you put them on, you don't hear much outside noise. They are excellent in this type of headphones and are very suitable for individuals who need them. Time and dedicated people, but it is not recommended to ride headphones, drive or in a dangerous place to avoid regrets.
Music
In terms of music performance, the moderator will say that Pamu Slide is a balanced headset. In terms of low-frequency performance, there is no special enhancement. Bass's sound is warm, but for listeners who like more rhythmic music, you may need to add EQ to Strengthen it a bit, the mid-high frequency will not increase the volume, hear some pops or Distortion, the overall frequency is considered smooth, the human voice performance is a bit bland, and after a few hours of testing, the sense of space and stereo performance are very good. , You can hear the original appearance and position of various instruments during mixing, it will not make people feel that the sounds are all stacked or glued together.
Video
For fans who often watch videos, the most important thing to avoid for a good Bluetooth headset is that the sound and picture are not correct. The moderator has bought the kind of headset with a large error before. The whole use is super inconvenient.
Pamu uses a very new Bluetooth chip, which is very smooth throughout the user experience. Youtube and Netflix have no delay. You can watch the video with confidence.
Call
In terms of call quality, Pamu Slide has a noise reduction function. While the headset captures the human voice, it also captures the ambient sound, so that the call can be heard more clearly without being disturbed too much. However, it is worth noting that in the version. The volume of the headset during the main conversation is a bit lower than when listening to music, which bothers me a little, and I may need to manually adjust it a bit louder, and I don't think there is much problem in the rest!
Source: