Pamu slide are the best-selling TWS headphones on Indiegogo. It was enough for me to eagerly await the moment when these in-finals will end up in my hands and I will be able to check if they are actually as good as everyone says. I used Pamu Slide for about three weeks and used them really intensively. Would I decide to buy them? Welcome to the review!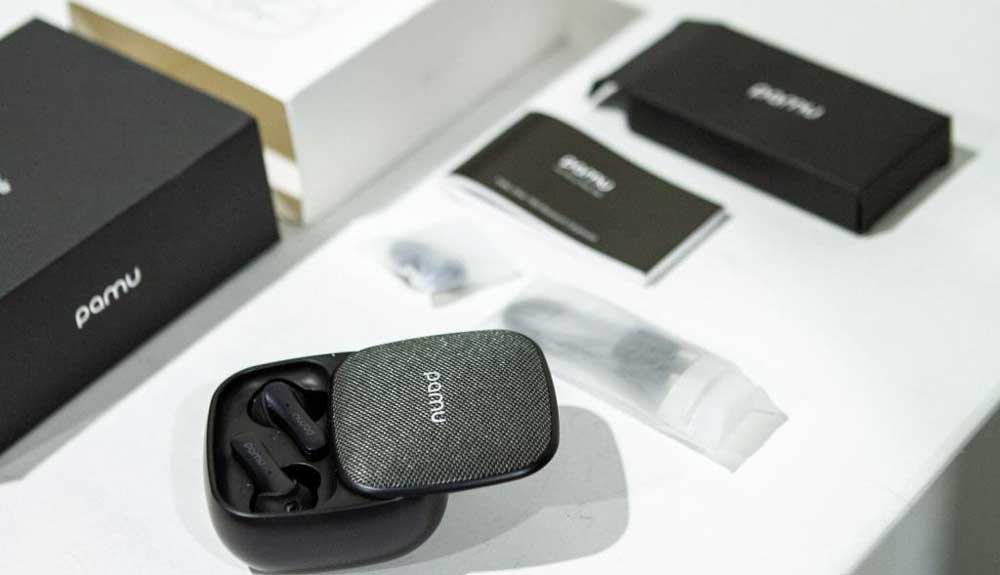 TECHNICAL SPECIFICATION PAMU SLIDE
Frequency response: 20-20000 Hz,
Impedance: 16 Ω
6mm single dynamic driver
The battery in the headphones only 85 mAh, in a case 2000 mAh,
Bluetooth 5.0,
Cover dimensions: 72 x 72 x 38.5 mm
Additionally: IPX6 water resistance, wireless charging of other devices
Supported codecs: AptX, SBC, AAC
Kit contents: headphones, a cover acting as a docking station, USB type C cable, replaceable elastic bands in other sizes, user manual
APPEARANCE AND PERFORMANCE
I have to admit that for a long time I have not felt the "wow" effect when unpacking some wireless headphones. This time the situation is completely different. Pamu Slide look amazing and after pulling out the cover, which also acts as a power bank, we feel that this is really well-made equipment. Considering that headphones cost around PLN 250, it's hard to complain about the materials used or the quality of workmanship. The docking station itself is made of a combination of metal and plastic. Everything is perfectly folded, and the upper flap sliding mechanism works smoothly and gives the impression of solid. A huge plus is the use of a USB type C connector. It's also difficult to attach to the quality of the in-ear nets. Here also a great quality material was taken care of, which does not collect dirt and at the same time it is extremely difficult to scratch it.
The problem is the considerable weight of the whole set, which is caused by the use of batteries with a capacity of up to 2000 mAh. Wearing headphones in a pants pocket is not something extremely comfortable, but I belong to people who do not really part with the backpack, so it was not a big problem for me. To sum up – the quality of workmanship and appearance of Pamu Slide give the impression that we have definitely more expensive equipment in our hands than in reality.
PHENOMENAL WORKING TIME ON ONE CHARGING
At Indiegogo we can even find a lot of assurances from the manufacturer himself that Pamu Slide are to stand out from the competition with an incredibly long working time. And I must admit that these assurances coincide with reality. After charging the headphones, we are able to listen to music for about 9 hours (the manufacturer declares 10 hours). And this is the time that many TWS headphones offer after charging the in-ear nodes several times in the docking station. It's different here. The energy bank allows you to charge the headphones six times, and thus the working time is extended to almost 60 hours. The "wow" effect is guaranteed.
I charged Pamu Slide right out of the box and I forgot about the charger for good. I used the headphones practically every day to change with Sennheiser Momentum True Wireless (their review will soon appear on the site) and I only recharged them after 16 days, and one diode on the case was still lit, i.e. about 25% of the battery was left.
The charging time also deserves a plus. The manufacturer declares that just 5 minutes of connecting to a charger is enough to enjoy an hour of music. And here also what we read in the product description on Indiegogo coincides with reality. We will fully charge the energy bank in less than an hour.
HEADPHONES CHARGING YOUR PHONE? NO PROBLEM
I must admit that this feature surprised me a lot. I have seen TWS headphones more than once, which cover could be charged wirelessly. But what if the battery in our phone is missing and we do not have a charger or power bank with us? If our smartphone supports Qi then we have enormous luck – the Pamu Slide docking station is able to charge our phone wirelessly. Although this is not some super-fast charging (both Mi 9 and Mi MIX 2S displayed a message about slow charging), but when we suddenly need energy, it may turn out to be a phenomenal solution.
SOUND QUALITY
And here Pamu Slide are really good. The sound quality is very high compared to the price. The sound itself is clean, there is no shortage of bass (which often does not exist in TWS headphones), but at the same time the lowest tones do not flood other frequencies. The vocals and instruments also sound very good. The stage is not too big, but at the same time it does not overwhelm the listener. Pamu Slide is one of the nicer wireless headphones that I've had the opportunity to use. Undoubtedly, they will appeal to fans of virtually any genre of music.
EVERYDAY FROM SLIDE MEMORY
The convenience of Pamu Slide deserves huge praise. These headphones, due to their construction, do not fall out of ears even for those who have problems with standard in-ear devices. Touch panels allow us to change songs, answer or reject calls, change the volume of the music or even wake up the voice assistant. Interestingly, Pamu Slide offer sound with virtually no delay, and thus watching movies is extremely pleasant. However, not everything works as it should. The biggest problem with Pamu Slide is the built-in microphone. Virtually every interlocutor reported to me that he could hardly hear me, and the sounds from the surroundings completely prevent the conversation. Nevertheless, if you don't talk too much on headphones then Pamu Slide should conquer your hearts!
Source: https://www.vogueguys.com/2019/08/the-best-selling-tws-headphones-on-indiegogo-pamu-slide_post-312/